MOUSTACHE
Here's to all the pilots who are the first to hit the coastline and the last to leave the party – Those that work hard and play harder, here for one thing and one thing alone... The MOUSTACHE.
We had a dream, that there is more to flying than left & right, to start a revolution in the world of flying and add a real 3rd dimension to your movements in the air.
The idea of our developer team was to create a fast yet stable wing to fly faster and at the same time not be afraid of getting collapses. Out of years of knowledge and experience on how to develop famous superstable world-leading kites and the additional background of having high performance and safe paragliders in our company, we made that dream a reality.
The flying family has gained another member and we are proud to share it with the world: a faster, more powerful member built to help you move through the air like never before.
This is the most energetic and versatile wing ever allowing you a huge range of movement adjusting your glide ratio, lift and speed to enter the third dimension.
Our proprietary FLARE System is a pulley system to mix the B and C level in ratio to the brake travel that allows you and your parakite to move free:
Adjust your glide ratio by fully changing your angle of attack.

It's the first wing in the history of flying uniting steering handles and accelerator and giving both into the brake handles having full control over your hands.
The following combination was the key to success. Equipped with a superstable reflex profile construction with a positive momentum means the wing always wants to fly away from you and keeps line tension even in fully accelerated flight.
Backed by this reflex profile which ensures prime angle of attack and stability when you need it most. This also lets you keep your kinetic energy and release it whenever you want. That allows you to soar and withstand even stronger winds.
This first-in-class fusion from the best of both worlds paragliding and kiting gives you the following skills:
Flying close to the ground made easy whilst precisely adjusting your height.

Safely get away from the terrain when pulling the brake handles to fly up, also gaining new possibilities of line choice and terrain capable to fly.
A never seen before combination of speed- and glideratiorange in speedwings being able of using your kinetic energy.
A way bigger and safer useable wind range while soaring.
Be safe on the ground in strong winds on full depower when releasing the brake handles fully upwards.
--> a truly balanced system and a masterpiece of engineering.

It is an insanely versatile construction built for ultimate soaring and named after pure strength. Even though we love our girls... What else to put in the design here than a Moustache.
Whether you're smashing runs on the coast and dunes with your buddies, or bagging laps during speed flying discovering lines on the world which haven't been possible before in terms of limitation through glide ratio... we got you covered now... you're here for the MOUSTACHE.
This special design and construction separate it from common gliders. A selection of premium materials out of our know-how from the development masterminds at skywalk and FLYSURFER providing trustworthy strength leaves no eye dry.
But don't be fooled – the MOUSTACHE punches above its look with a performance-first mindset.
Our beloved places to play: Soaring, Speedflying and -riding, Snowkiting and Proximityflying.
Be aware:

The MOUSTACHE is

NOT

built for thermal flying, nor being used in strong turbulences since a reflex profile is powerful and behaves completely different in collapses!

With great power comes great responsibility. So make sure to watch all the FLARE Nation Academy tutorials!
Go
#Beyond_Gravity
and enjoy every soaring session like never before. Get ready for one of the most challenging, liberating, and satisfying experiences you'll ever have!
Simply put: The MOUSTACHE goes where you want to go, and flies how you want to fly.
There's nothing comparable on the market, so a warm welcome to the future of flying. Or better said: FLARING!
See below to learn more about this new member of the flying community.
#Beyond_Gravity
Your complete package for the "MOUSTACHE"
1x MOUSTACHE Parakite
1x DREAMCATCHER Bag
1x BASIC GUIDE
1x Self-adhesive repair patch
1x FLARE Bandana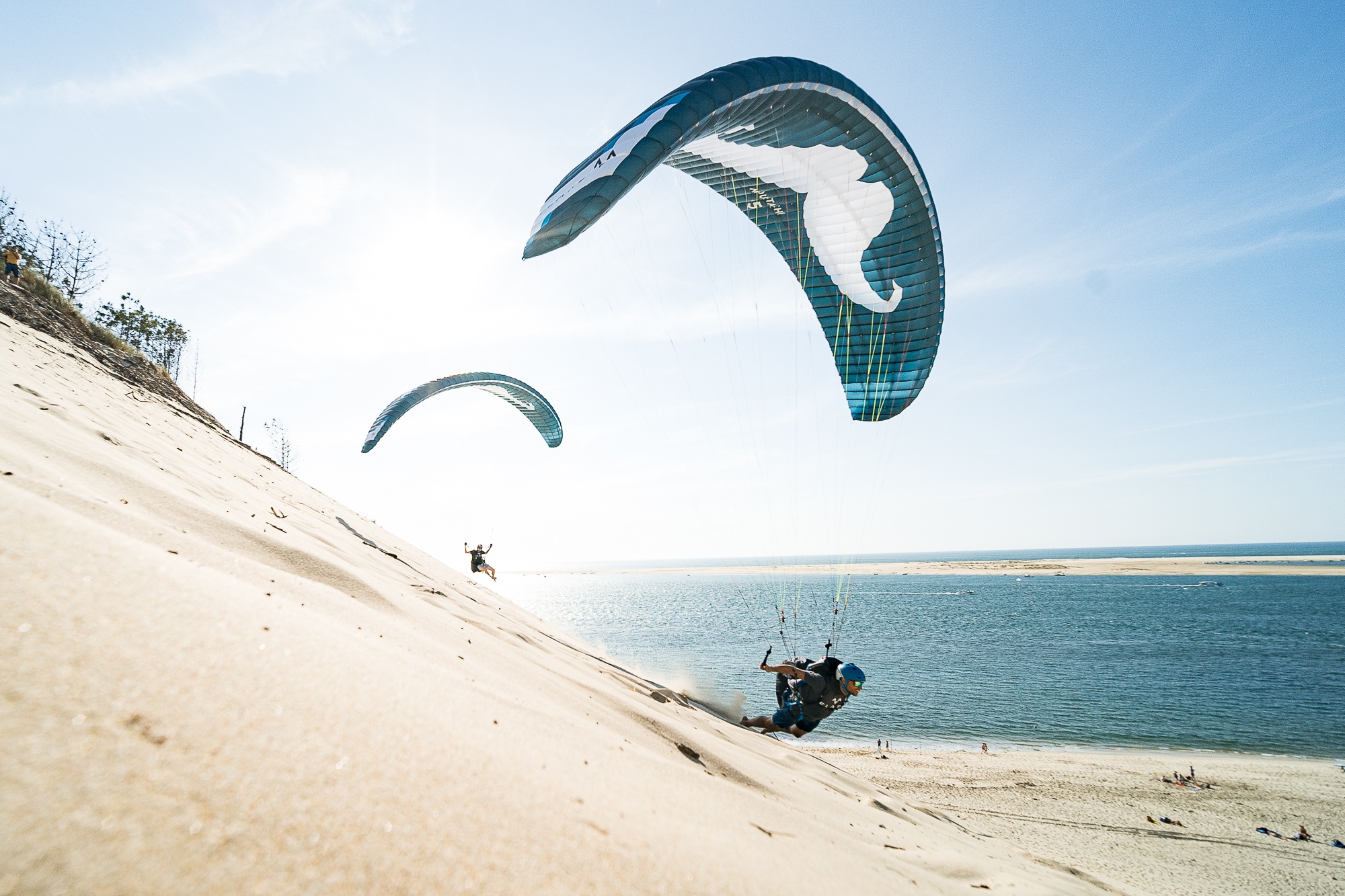 Reflex Profile
The reflex profile keeps the wing stable at a low angle of attack and at full acceleration. The counter-arching pushes the trailing edge down and prevents a front stall. The reflex profile is essential for controlling and depowering your parakite.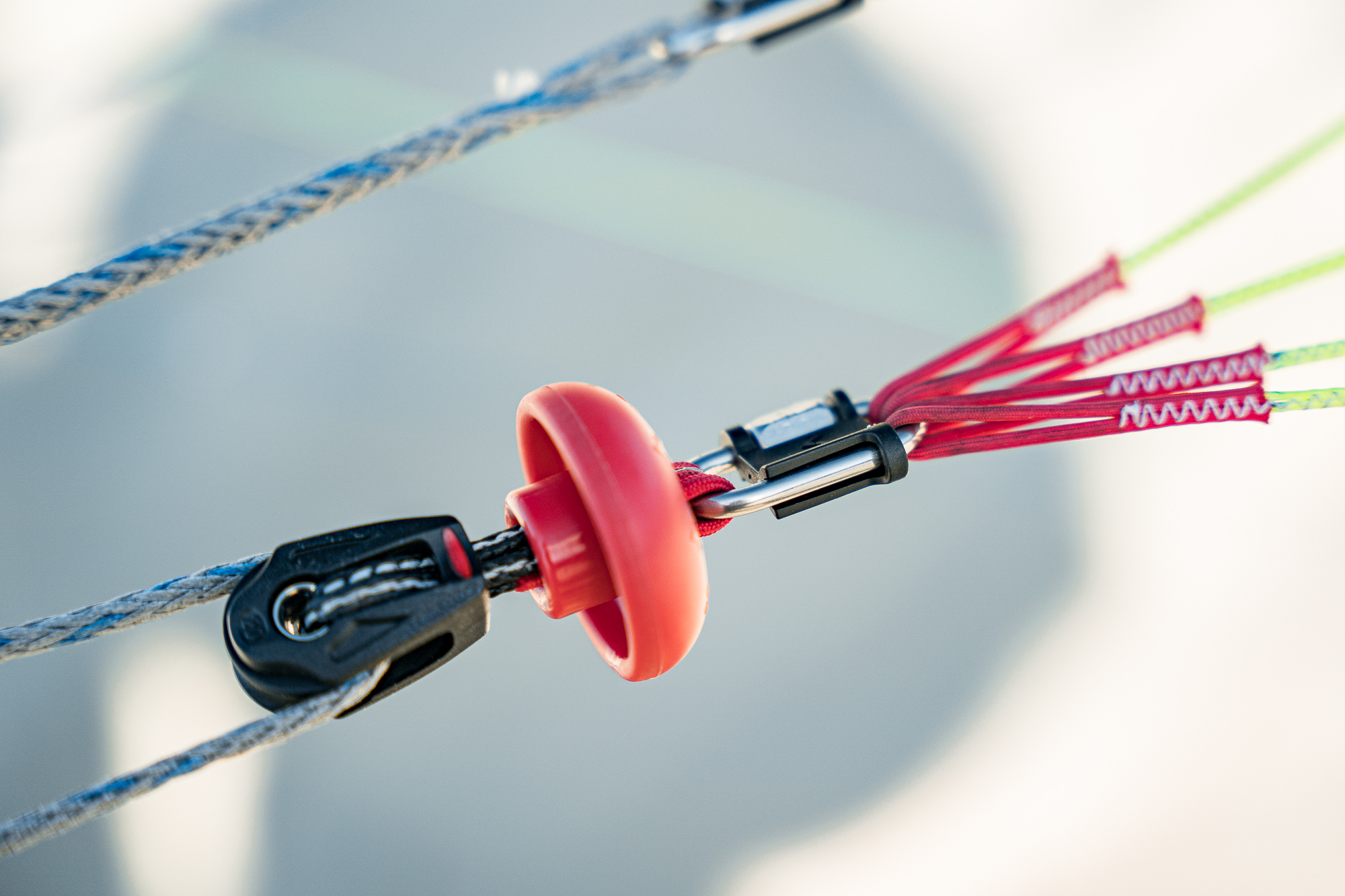 Killer Mushroom
The Killer Mushroom is the perfect tool to kill your MOUSTACHE, it is connected on the B level and will stop your wing completely from generating any lift. The best emergency help when you are standing on the ground and the wind gets too strong and you want to bring your wing to the ground. Don't use while flying – please DON'T!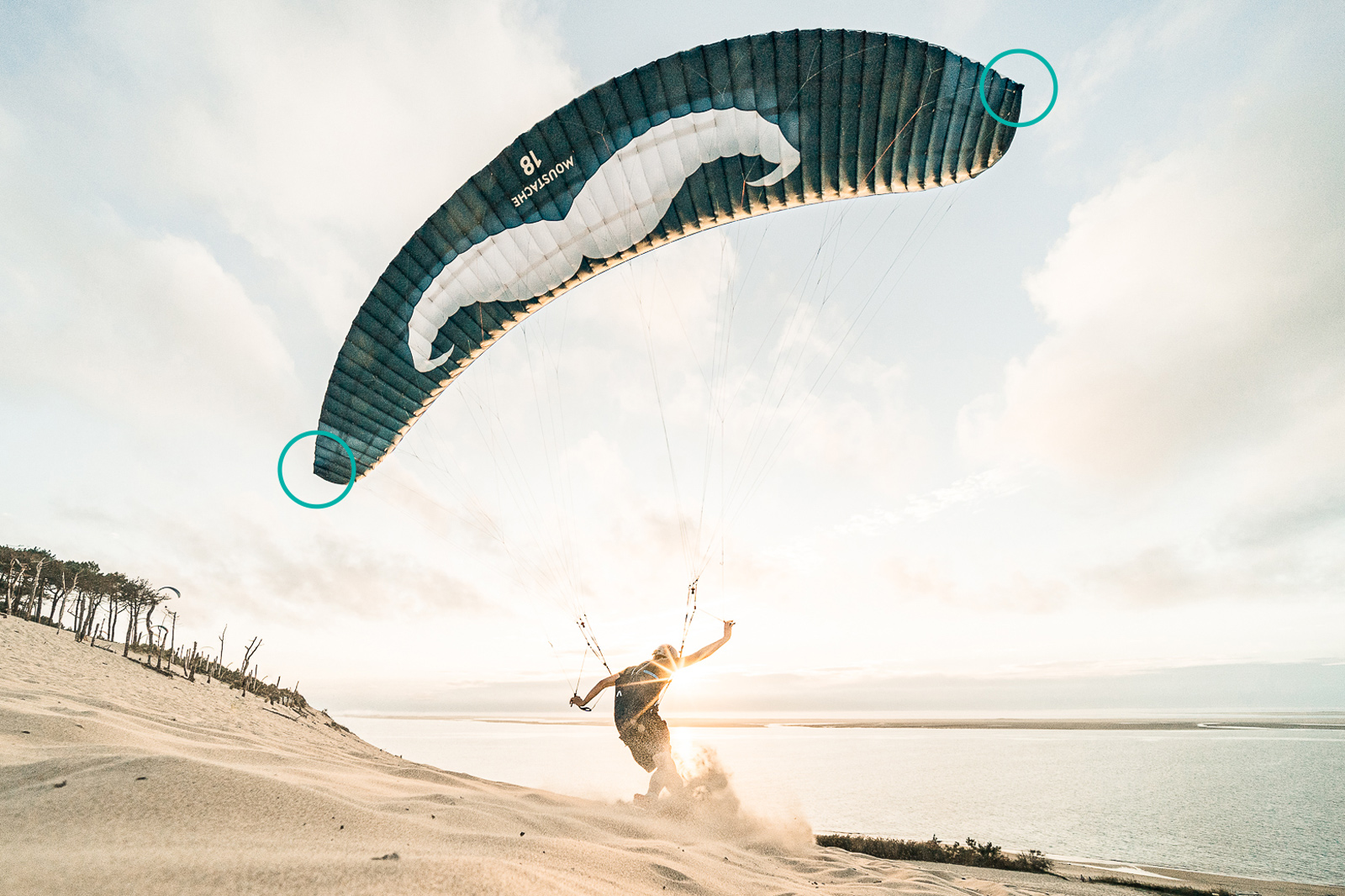 Automatic Drainage System
The Automatic Drainage System hides in the internal construction of our parakite. Dirt and small objects that got inside the wing slide automatically from the middle section to the wingtips. They exit the wing through two big holes at the trailing edge of the wingtips.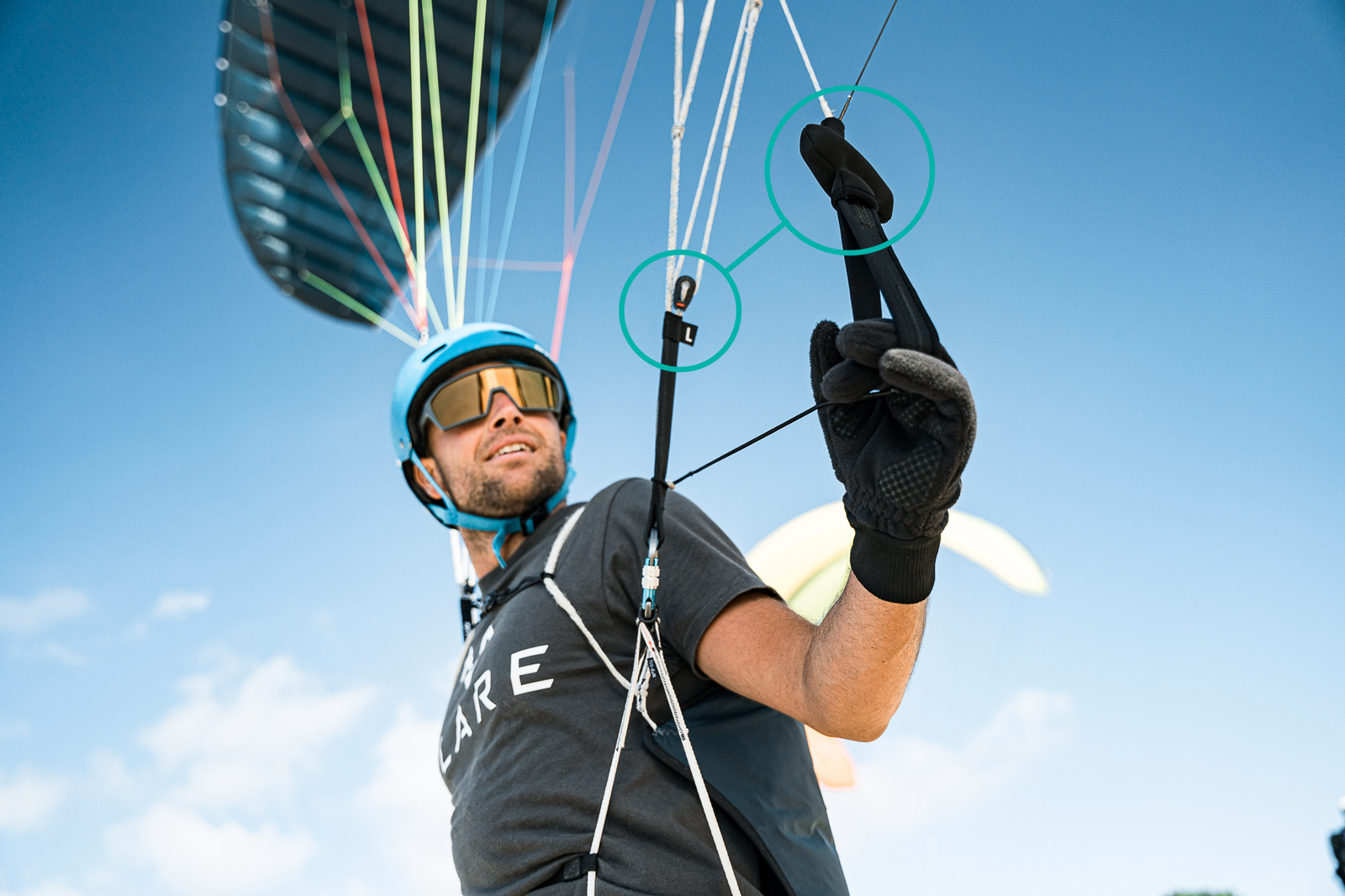 Best Trim Labels
We have placed a left and right label on each end of the two risers where the best trim is situated when your MOUSTACHE gets to your door. When you fly with your handle on this position, you are going to achieve the best glide ratio. Furthermore, the left and right labels help you to organize your lines when you connect the MOUSTACHE to your harness, even in strong winds when the wing is not completely unfolded.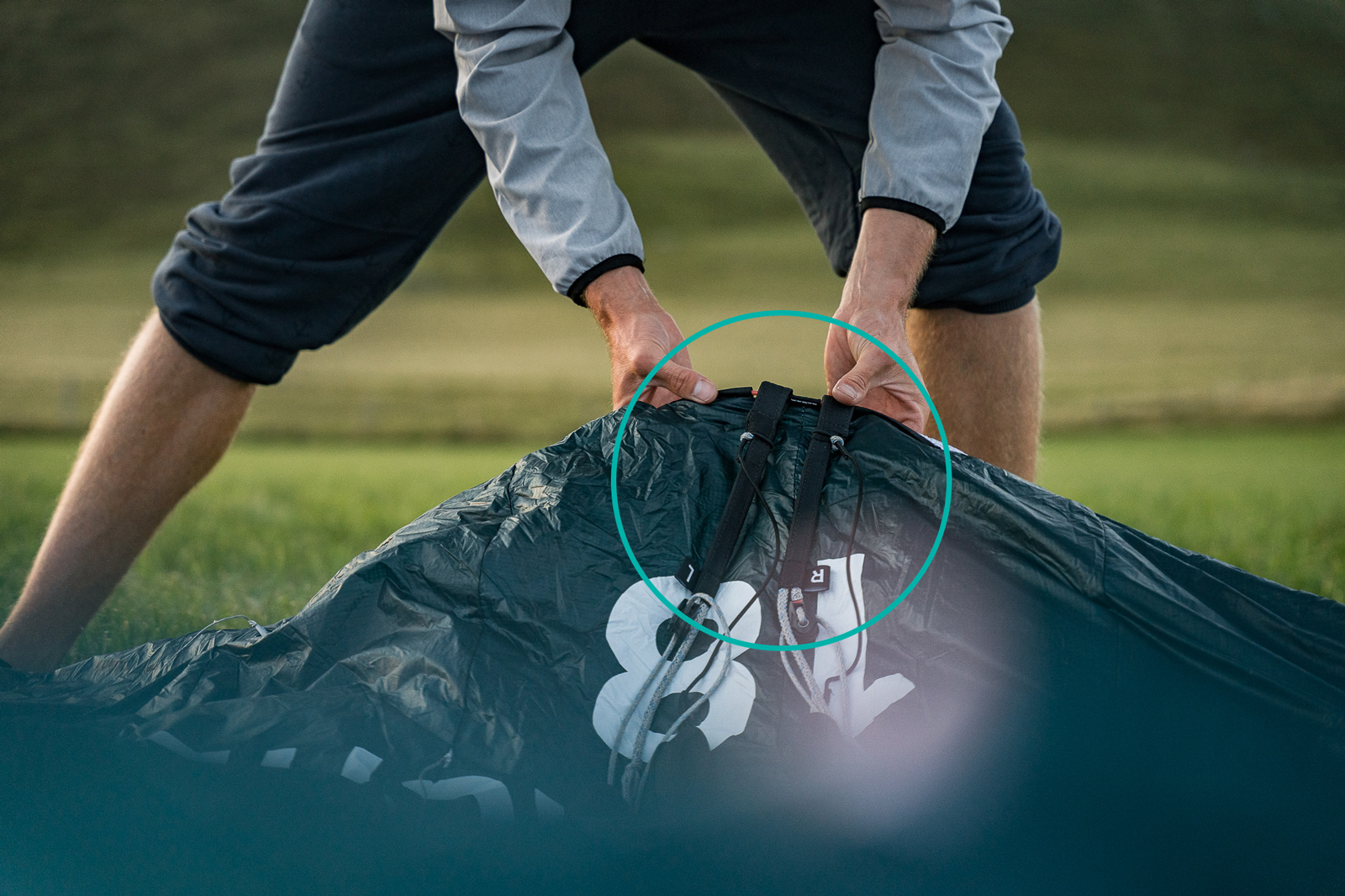 RFS – Riser Fix System
Our Riser Fix System is a rigid foil that is sewed at the lowers sails trailing edge and hides in side pockets. You can slide it through your riser loops to keep them perfectly organized when packing or unpacking your wing. It also prevents line tangling when packing or unpacking your wing. Together with the left and right "Best Trim" Labels starting your session will get much easier. Put the rigid foil back in the pockets when flying.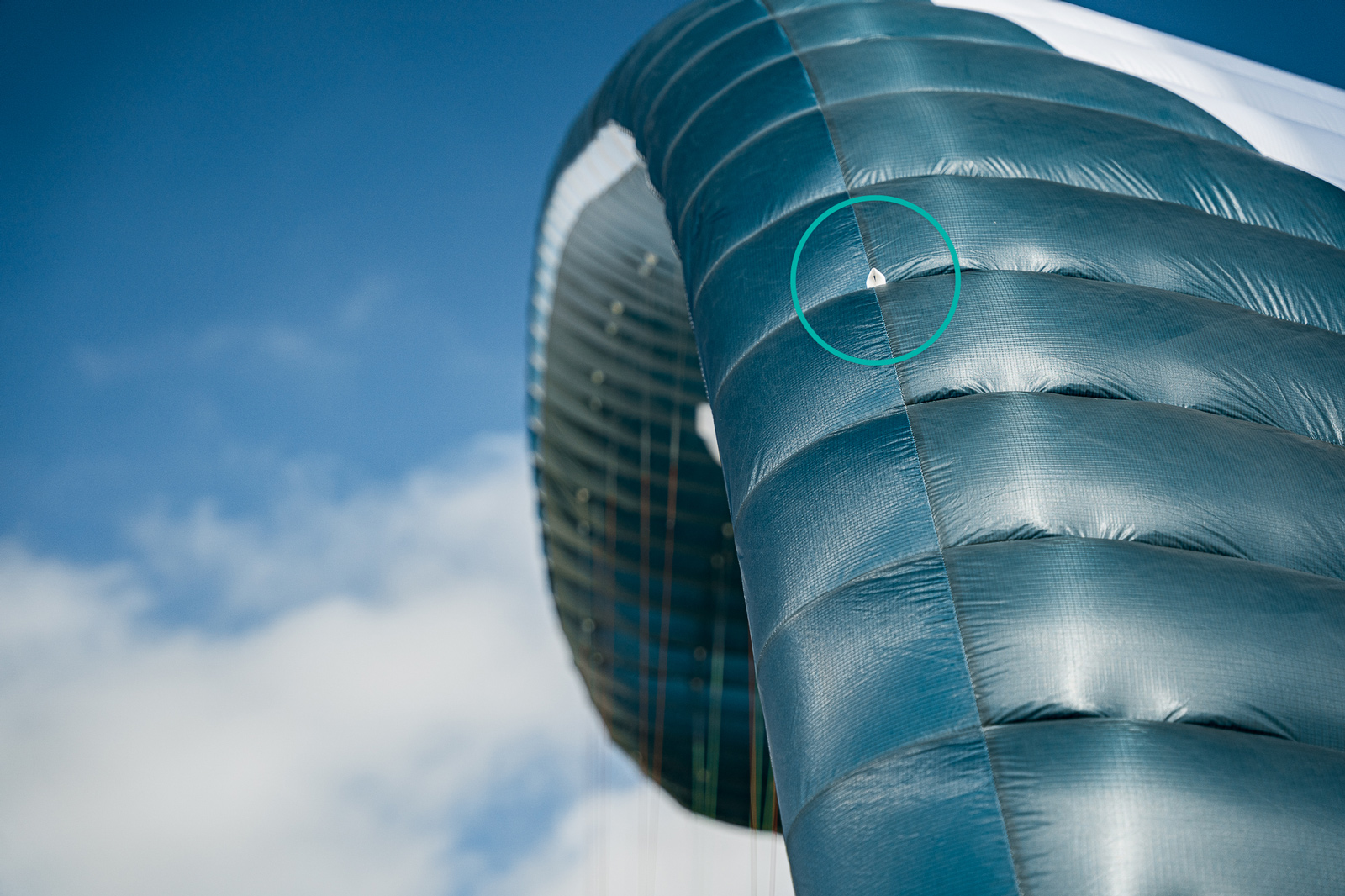 SNOW Loops
The MOUSTACHE is equipped with 5 snowloops on the upper sail, which will prevent your wing from sliding down a snowy or technical difficult take off.
Together with our wooden Hook Pins which are connected to the loops during flight, you'll have a lot more time and fun to focus on your take-offs.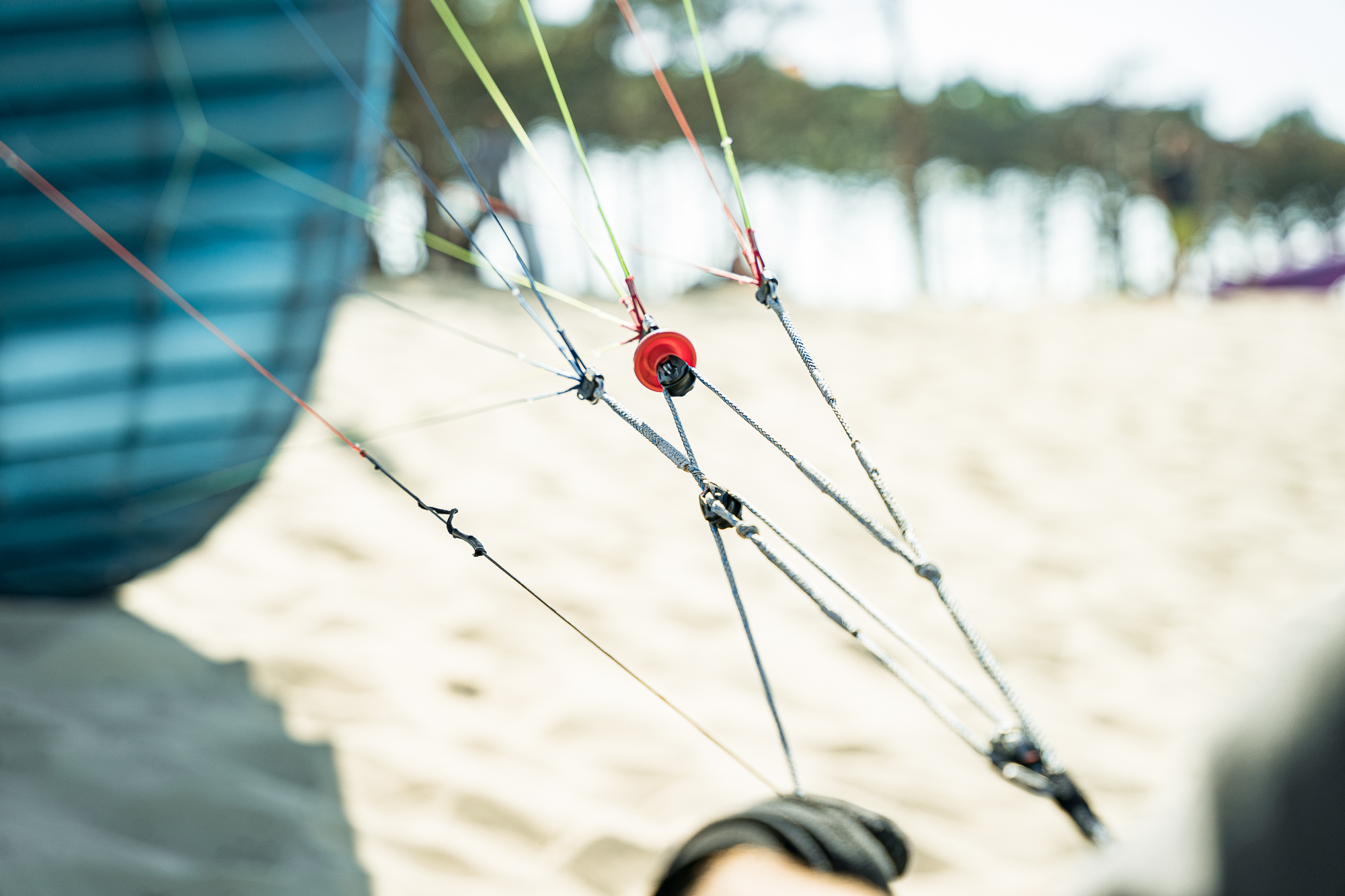 FLARE System
THIS is adding the real 3rd Dimension to flying!
It's the first wing in the history of flying uniting steering handles and accelerator and giving both into the brake handles, having full control over your hands.
It is as Pulley-system to "mix" the B and C level with a certain ratio to the brake travel.

The C-level moves with a ratio of 1/3 of the Braketravel.

The B-level moves with a ratio of 1/6 of the Braketravel.
That means you can fully adjust your glide ratio by completely changing the angle of attack of your wing.
The combination was the key to success.
Equipped with the superstable reflex profile construction with a positive momentum means that the wing always wants to fly away from you and keeps line tension, even in fully accelerated flight.
Your brake handle is connected with an elastic Free Brake Line, to be quickly able to grab it when standing on the ground.
Don't release the brake handle while flying and stay in the loops.
Take-Off-Weight chart
The right choice of size is for sure the most important decision you have to make to enjoy the perfect FLARE experience. According to this, we designed the recommended Take-Off Weight Chart for you.

Additional please make sure to watch the "Sizes" video in our Academy section, which is dedicated to support your decision on what size to choose.

Or directly here.
Windrange - flat dunes
The MOUSTACHE compared to a normal paragliding Miniwing has a way bigger glide ratio and wind range you can use, due to its ability to adjust your full angle of attack.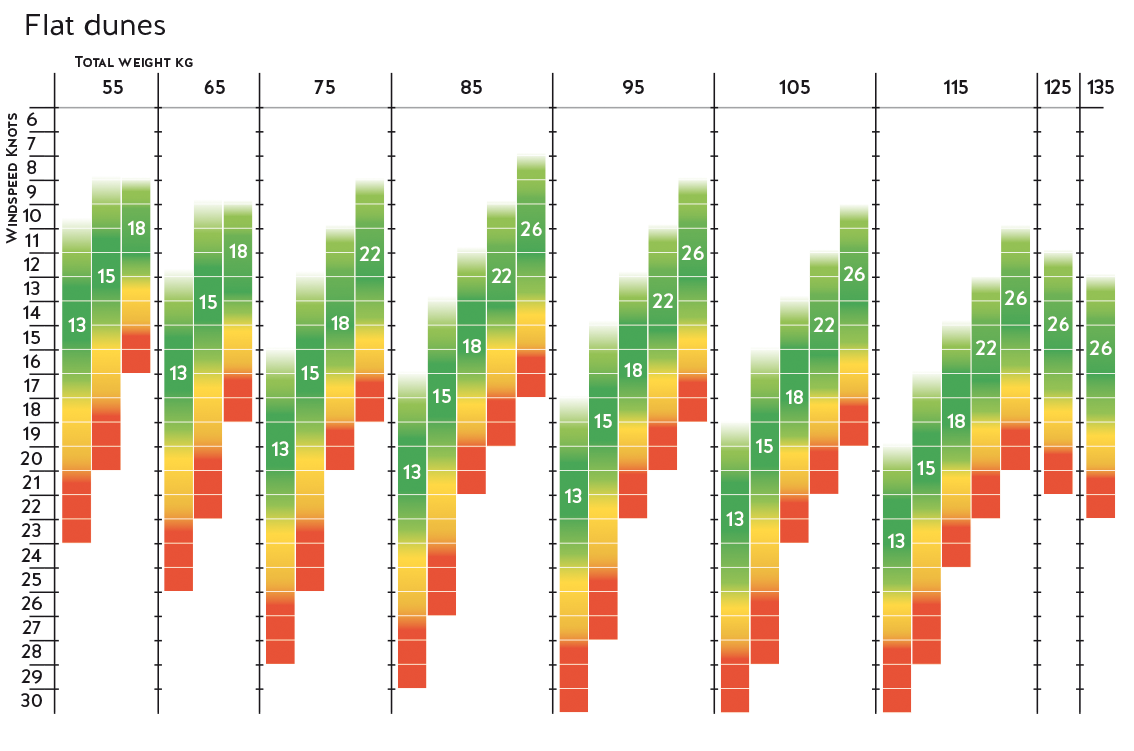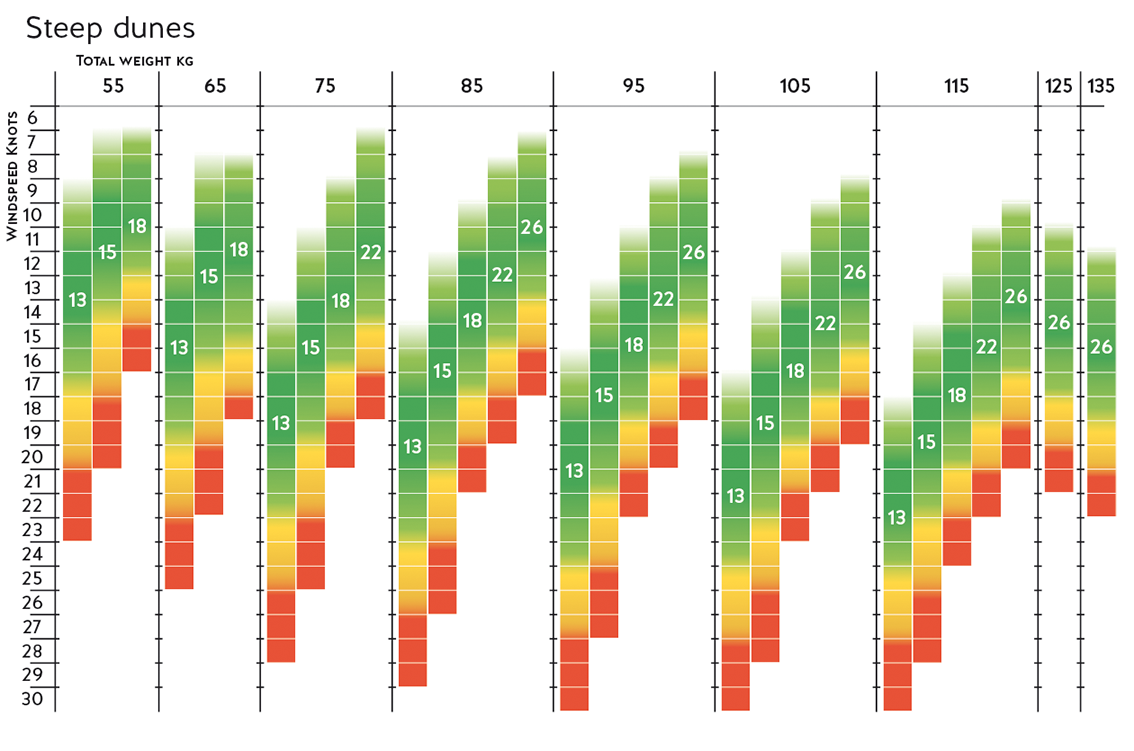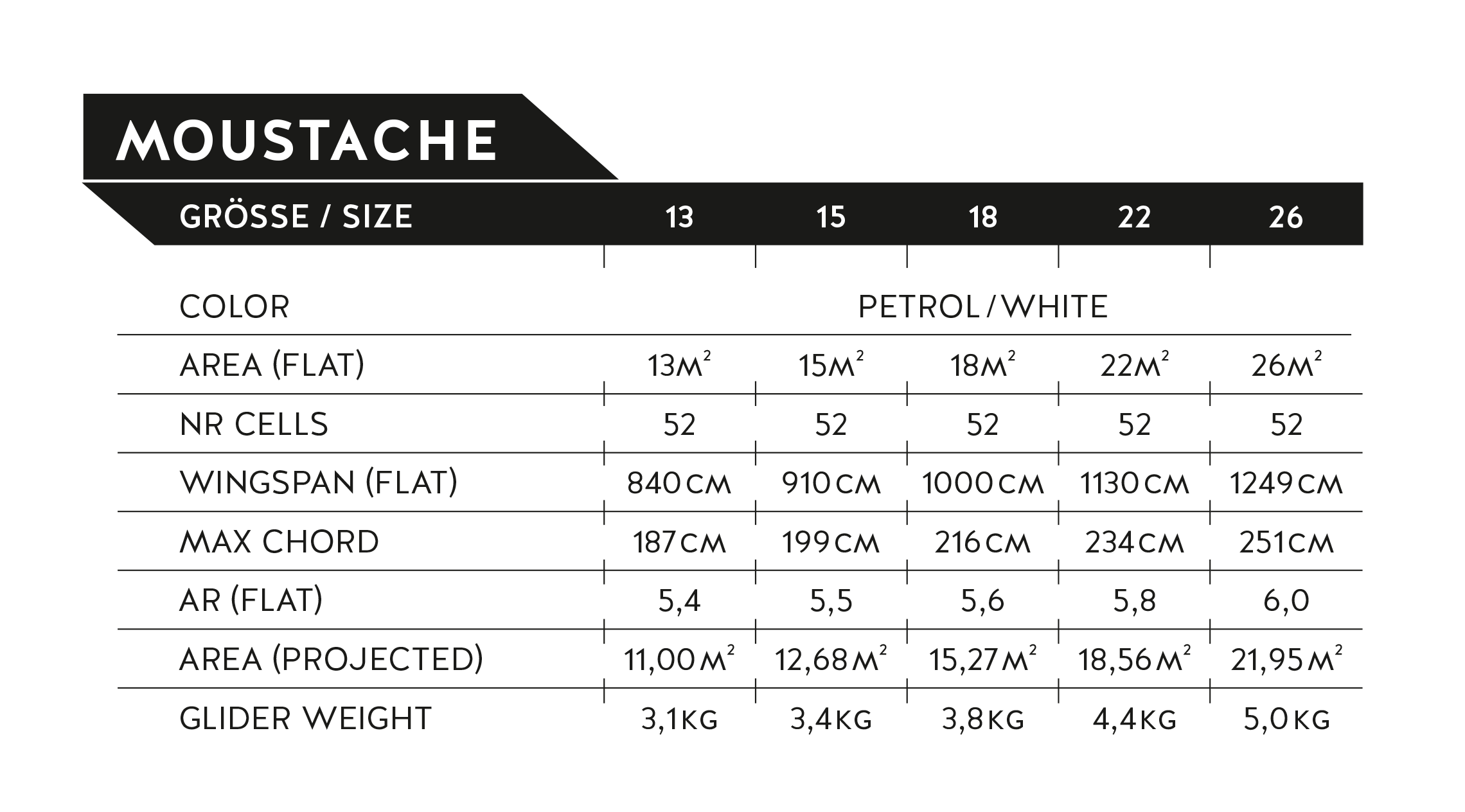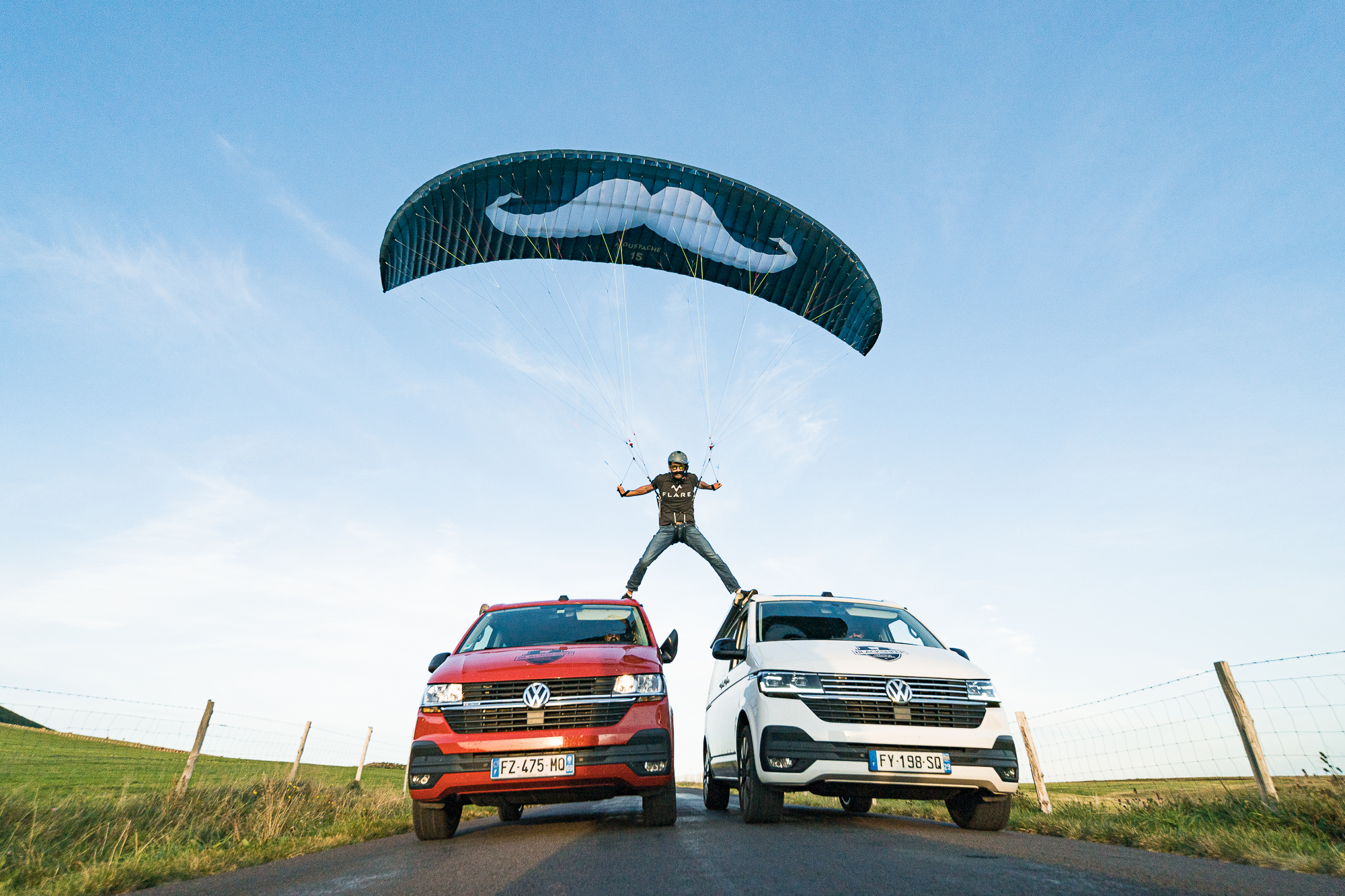 The MOUSTACHE
This might be a fu#*!ng revolution!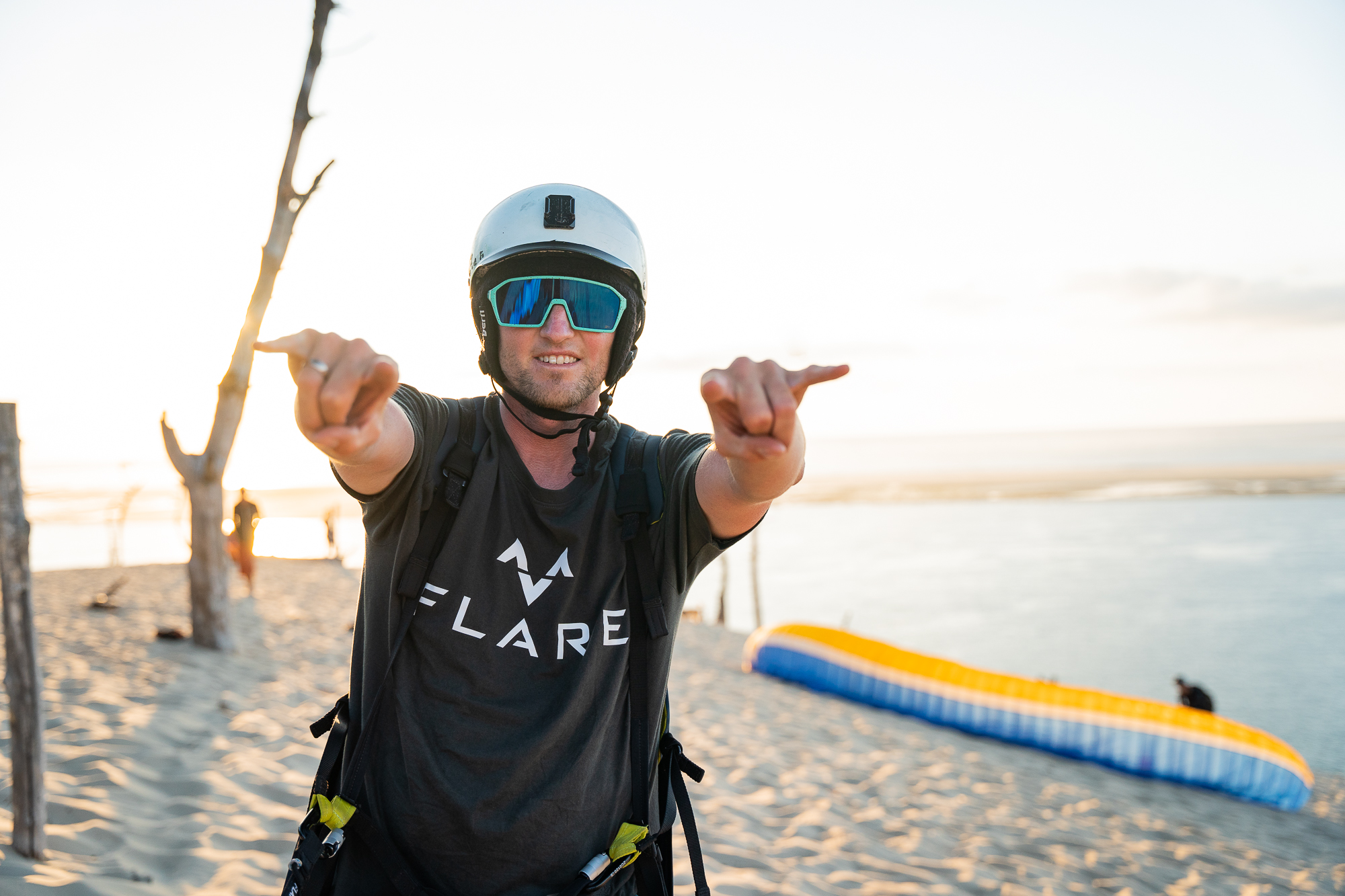 The best of two worlds
We have created the ultimate wing system combining power, fun and safety... From the best of two worlds: Kiteboarding and Paragliding.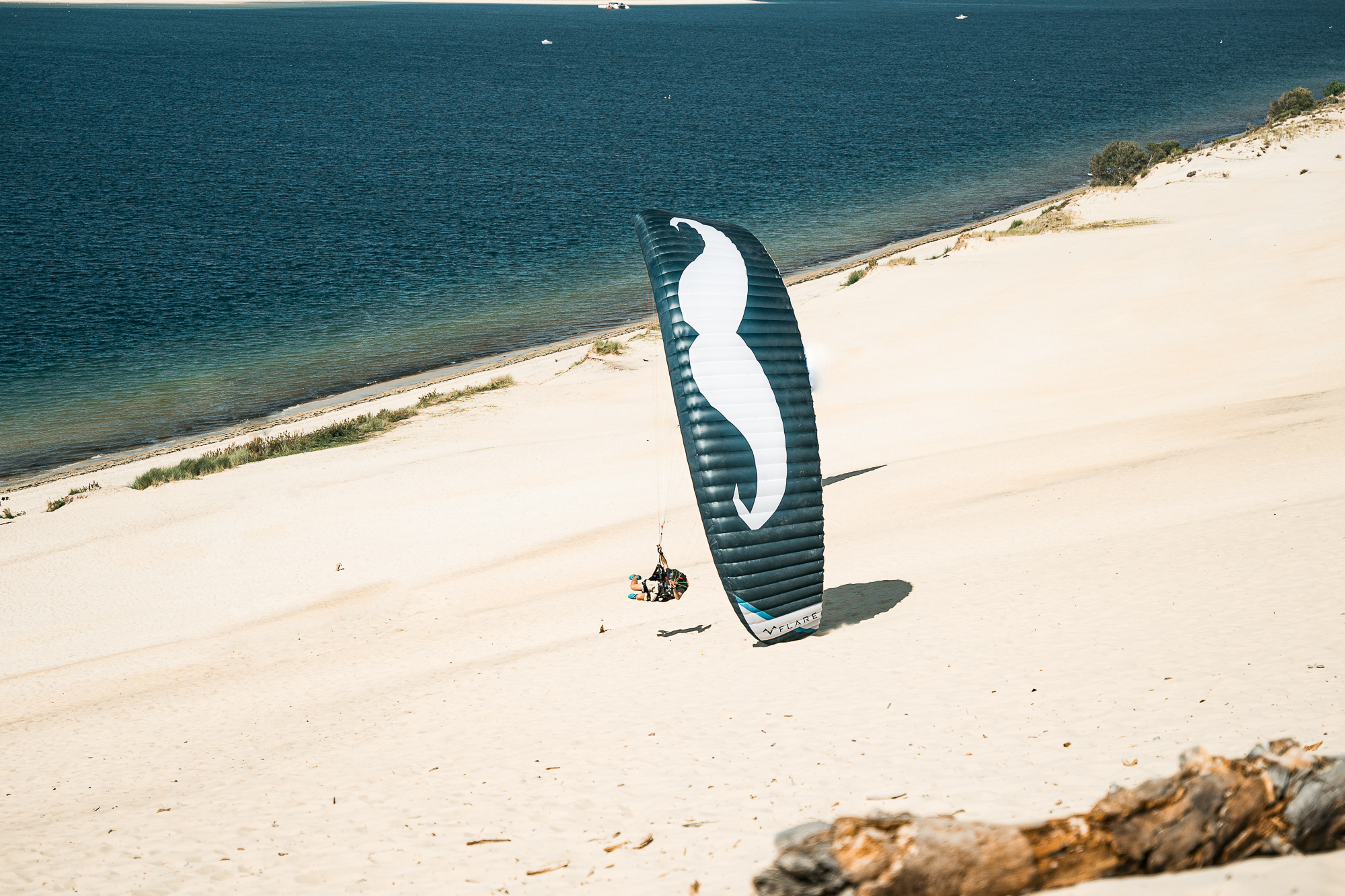 Has thrown everything out of the window
Today, I took everything I've learned in 42 years of flying ramair wings, and threw it out the window...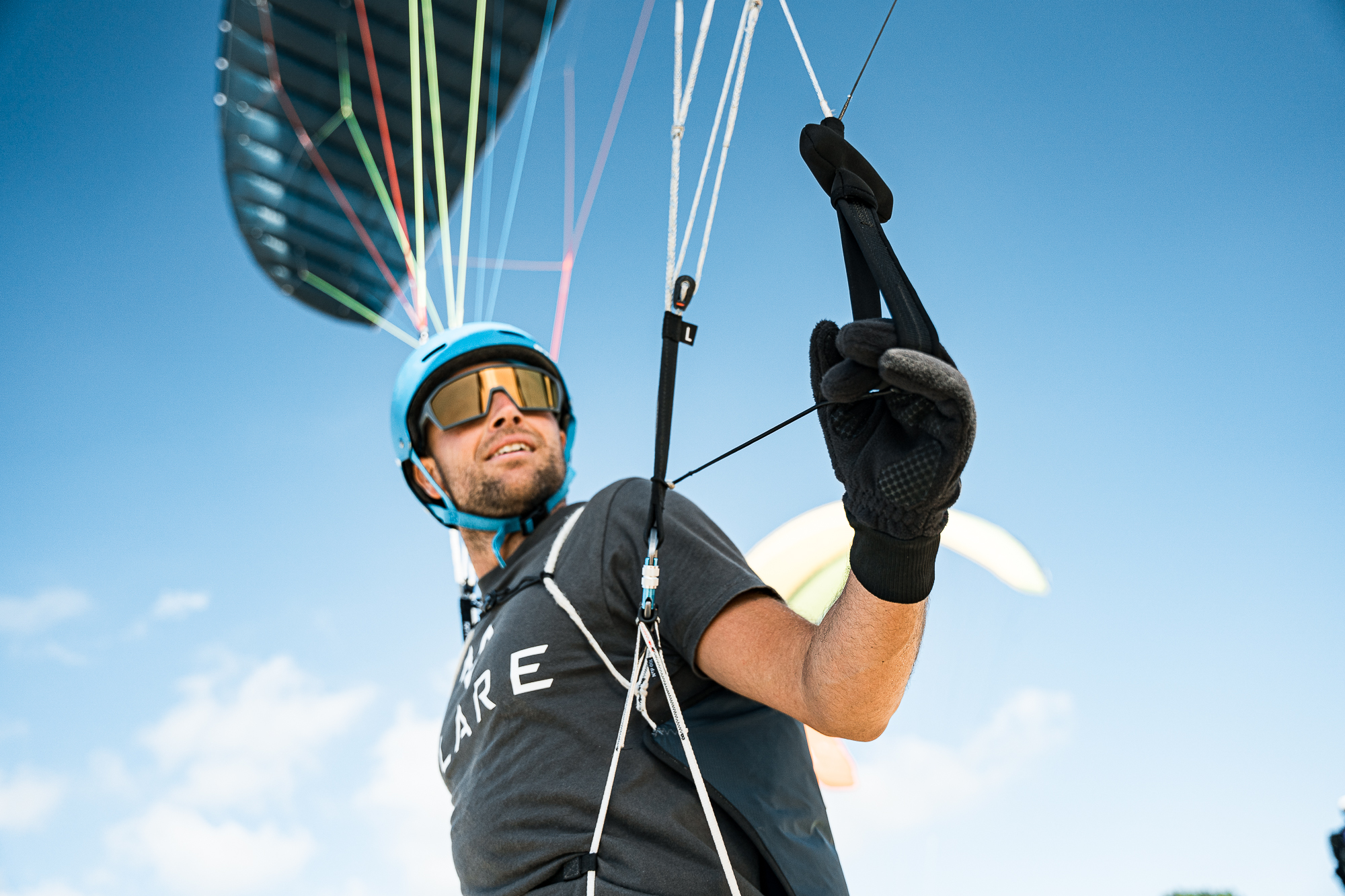 Revolutionary
The MOUSTACHE is an amazing and absolutely revolutionary wing. I love it!